To be going backwards as we emerge from the COVID-19 crisis, and forcing families to live on just $44 a day, simply defies logic.
Can you remember the last time you spent less than $44 a day?
When you add up your morning coffee, maybe a piece of toast, some lunch and a drink, groceries for dinner … and don't forget to count the bills – electricity, water and petrol to name a few – and rent. The median rent in Melbourne is $400 a week.
On $44 a day, tens of thousands of Victorians will be forced to eat the bare minimum. Perhaps a tin of food and some porridge a day. They'll shower once a week to save on bills. They'll have insecure housing – either couch surfing or living in their car. Some will be trapped in abusive relationships.
Poverty and financial hardship creates a raft of challenges in and for our communities. It can cause increased family conflicts and separations, family violence, substance misuse and abuse, housing stress and homelessness, and crime.
One in six Australian children lives in poverty. That is simply heartbreaking.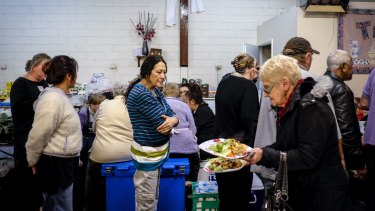 The fact is, if families and children do not have their basic needs met – a place to sleep, food on the table, the ability to get to school – they are significantly less likely to begin to be able to address the other, more complex issues in their lives.
For the past year, the JobSeeker supplement has enabled families to better meet basic household needs and relieve financial stress.
At just $44 a day, we will continue to entrench families in poverty and compound the risks of family violence, poor mental health, housing stress, complex trauma, and the range of other issues that can lead to family separation and child placement in out-of-home care.
Loading
There are currently around 50,000 children involved with the child protection system in Victoria, with nearly 12,000 living in out-of-home care. At Berry Street, we know that, sadly, half of the young people who leave out-of-home care when they turn 18 experience homelessness. The current youth unemployment rate in Australia is just under 12 per cent, and the reality of young people trying to strike it out on their own with little to no income support is a huge challenge.
Making the $150 JobSeeker supplement a permanent increase would go some way to alleviating a number of pressures on vulnerable families, and addressing the compounding factors of disadvantage that can result in families being separated and children entering out-of-home care.
Michael Perusco is the chief executive of Berry Street child and family services.